Ringworm is not a worm but a form of a microscopic  fungus that affects animals and humans. Technically called dermatophytosis or dermatomycosis, the name ringworm was given because the ringworm lesion on people sometimes appears as a reddish circular area surrounding a crusty spot and it was once thought to be caused by a worm.
Ringworm is caused by many different species of fungus that can be picked in the environment or from other infected animals.  The most common species of  ringworm is caused by Microsporum Canis. The lesions can vary in appearance from patchy hair loss, to crusty spots to no signs at all.
Ringworm in your cat can sometimes be diagnosed with a woodslight (ultra violet light or blacklight). The fungus growing on the hair shafts will glow a lime green color when exposed to the light. Sometimes, the fungus cannot be detected by the light and special fungal cultures will have to be done. If there are lesions on the cat, a few hairs and crusts are placed on a special culture media to promote the growth of the fungus. If no lesions can be found and the owner suspects a cat for giving ringworm to the family, a sterile toothbrush is used to catch any loose hair and then the hair is placed on the culture media.
Anywhere from a few days to 2 weeks, if there was a fungus present it will grow on the media much like bread mold on old bread. The fungus also will turn the media a reddish color if it is M. Canis. The spores on the media are then microscopically examined with a special stain to verify the species of the fungus and to be certain it was not just an environmental contaminant.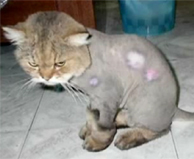 If ringworm is verified on the cat or kitten, medicated shampoos can be used to help control the ringworm. Treatment is done for 6 to 8 weeks . Oral anti-fungal medications can also be used if the ringworm is generalized.  To avoid contaminating the environment with further spores, sometimes the cat will be shaved.
Most people do not get ringworm from their pet, but from the environment. The fungal spores are present at swimming pools, parks and anywhere where people congregate. If a pet is diagnosed with ringworm, treatment by medications will hasten recovery and further exposure to people and pets can be limited by environmental clean-up. If you have multiple cats in a household with the ringworm, clean-up will prove to be challenging.
All contaminated toys, food bowls, blankets, cages, scratching posts, bedding should be removed.
Any item that cannot be disinfected should be discarded or destroyed.
All items that can be washed should be washed with an anti-fungal soap, rinsed and then soaked in diluted bleach (1 part bleach to 30 parts water) for 10 minutes, and then repeated 3 more times.
Rooms should be cleaned including walls, ceilings, furnace vents, filters, under furniture, beds and refrigerators.
All surfaces should be vacuumed, scrubbed and bleached.
Change furnace and AC filters weekly.
Clean the ducts and vents with a commercial duct cleaner.
Rugs should be washed with an anti-fungal soap. Steam cleaning alone is not reliable, add a disinfectant to the solution to kill the fungal spores in your carpets.
Quarantine affected cats until the ringworm is gone.